SERVICES

ALOHA STREET MAGAZINE
Premier Free Magazine "Aloha Street Magazine"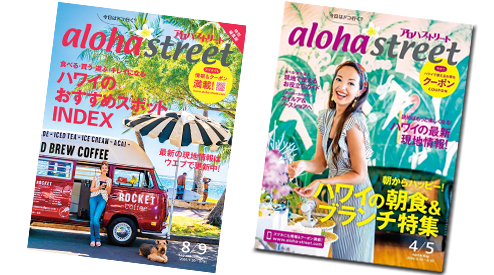 Issuance :
Bi-Monthly. Issued on the 20th of the month (January, March, May, July, September, November)
Circulation :
Hawaii: 67,000 copies / issue (402,000/year)
Japan: 19,000 copies / issue (114,000/year)
Distribution within Hawaii :
Racks within Waikiki, hotel concierge desks, hand distribution at Daniel K. Inouye International Airport (HNL), Japanese grocery stores, various retail locations, totaling over 150 locations.
Distribution within Japan :
Mail order, travel agents, 2 Airport lounges in Narita International Airport, Hawaiian Airlines office, HTJ (Hawaii Tourism Authority Japan), Aloha Street shop in Yokohama, and free digital e-book distribution.
Coupons :
Separated by category for easy use
Contents :
Feature articles, driving maps, area-specific guides, calendars, events, activities, shopping, gourmet, beauty, latest local information, celebrity interviews, Kailua, North Shore and more.
For advertising inquiries, please email: ad@aloha-street.com
Premier Free Magazine "Hawaii Island Edition"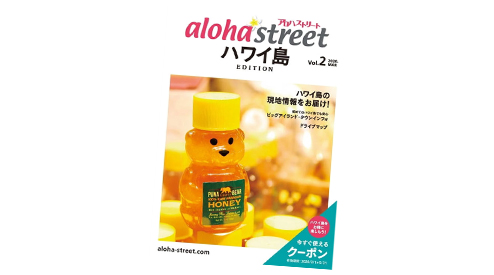 Issuance :
Quarterly. Issued on the 1st of the month (March, June, September, December)
Circulation :
12,000 per issue (48,000/year)
Distribution within Hawaii :
Ellison Onizuka Kona International Airport, Daniel K. Inouye International Airport, around Kailua-Kona town and Hilo town, at hotel concierge desks, rental car companies, KTA Super Stores, and more!
Distribution within Japan :
Airport lounges in Narita International Airport and free digital e-book distribution!
Contents :
Town guides, detailed maps, activities, shopping, dining, local interviews, and more; be sure to also check out our website for all the latest articles and experience reports!
For advertising inquiries, please email: ad@aloha-street.com